Bumi Hills Safari Lodge
Situated on the banks of Lake Kariba
Bumi Hills Safari Lodge is situated in an elevated position in the Bumi Hills  from which the lodge takes its name. Overlooking Lake Kariba it enjoys a prime position in one of Africa's finest wilderness locations on the North Eastern border of the Matusdona National Park.
The views from Bumi Hills Lodge are breathtaking and from the terraces and the beautifully appointed rooms guests overlook the shoreline and lake as well as a waterhole which hosts a passing parade of animals at different times of the day.
The area is noted for its wildlife and in the evenings sundowners are enjoyed by the lake often in the company of feeding wildlife.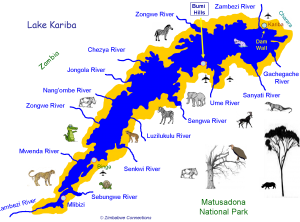 Access to Bumi Hills is by air or boat from Kariba town or by road (poor quality) from Karoi village via Siyakobvu.
The safari lodge has a total of 10 rooms, all with views over Lake Kariba. All rooms are premium rooms with balconies and uninhibited views over Lake Kariba. There are garden rooms available as well with slated terraces and these are set a little way back behind on a level above the premium rooms.
Taking centre stage is the beautiful infinity pool that seems to blend endlessly into the lake horizon. The pool is surrounded by intimate wine and dining terraces on different levels. The lodge interiors have been beautifully finished in a fusion of contemporary western and African styles.
Bumi Hills Safari Lodge is situated on an extensive wildlife conservation area and is home to lion, leopard, big herds of elephant and buffalo, as well as a multitude of different plains game.
Guests can indulge in superb fishing in the lake waters surrounding the safari lodge with bream and the fighting tiger fish in abundance. Birding is popular in the area and guests will likely have sightings of  the wonderful Fish eagle and hear its high pitched call echoing through the hills. Visits with the local Tonga people and engaging in cultural experiences with the people is also well worth doing. 
There are a varied range of exciting and relaxing activities to choose from including both morning and afternoon game drives, fishing for the famed fighting Tiger fish and stunning game walks with an experienced and knowledgeable guide.
Lapped by the waters of Lake Kariba, Bumi Hills Safari Lodge enjoys wonderful isolation. It is an oasis of tranquility and an ideal retreat from the hustle and bustle of modern life.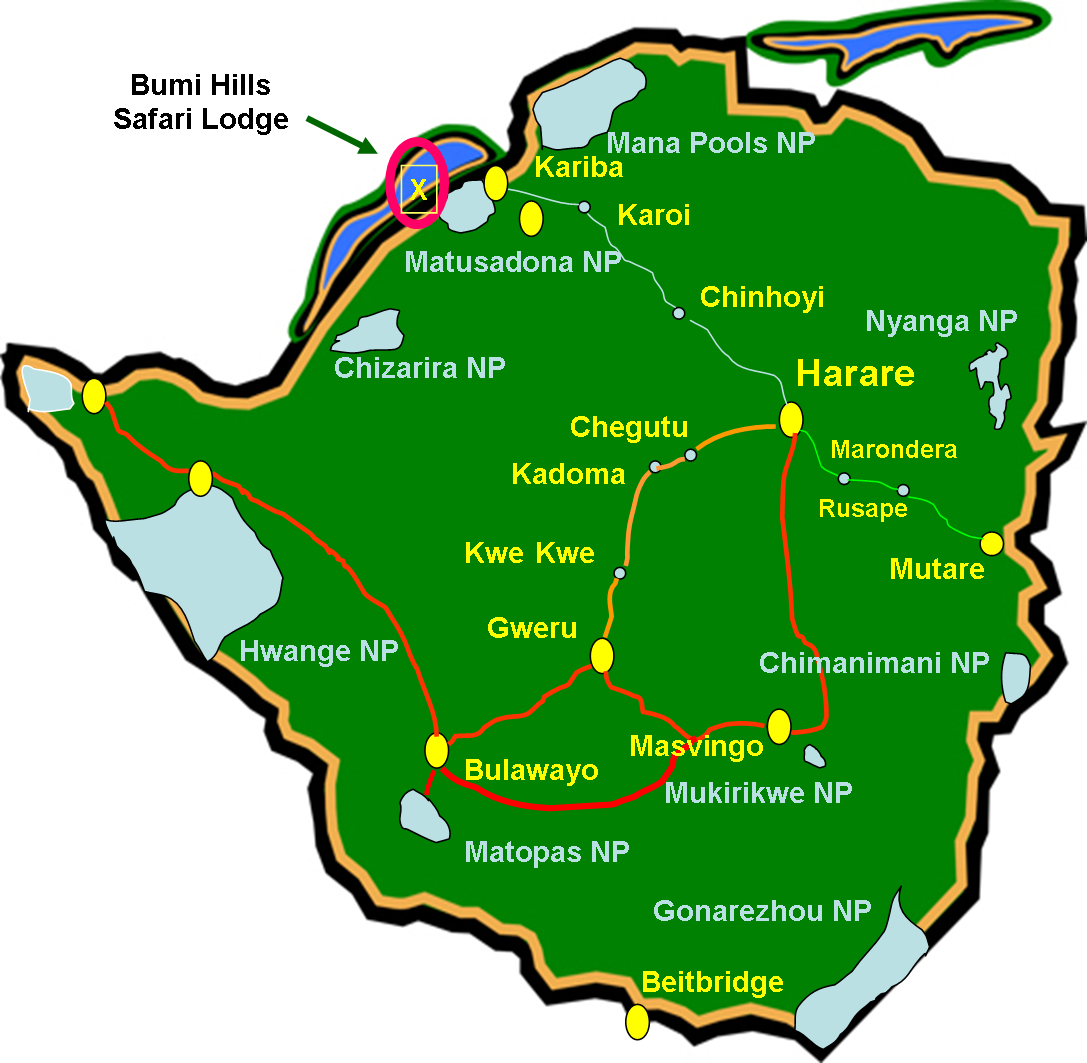 "I went with my family from Germany for one week right to BUMI Hills to celebrate my 60. birthday. It was perfect. Accomodation was perfect …the meals very fine, dinner at the lakeshore, wine of the best, the staff very very friendly and game viewing the best, I had in africa (I`ve been to Afrika several times before). Where else can you watch elefants while lying in the pool? It is really one of the most beautiful places in the world. We will come back."
"The location is fantastic we had a room overlooking the Bumi Plains and Lake, with elephants and buffalo grazing daily. The game drives along the shoreline were great, it was a photographers dream as the colours are so good. Our Guide Maxwell, was great. …The sunset cruises are a MUST. We had a leisurely sunset cruise and also 2 on a speedboat, where you can go further and cruise into the sidings where you see numerous birds nesting. The African Sunsets were the best ever. "
"I've just spent four incredible days here and the trip has revitalized me and inspired me to no end. Since I travel for a living as a photographer I thought I would give the camera a rest for the weekend but ended up taking more images than I traditionally would on a work trip!…Food is great, rooms are adorable and nature everywhere you look. 5 stars!"
"The Bumi Hills Lodge is wonderful. We flew in a 4 seater aircraft from Victoria falls.
On arrival we had a very warm welcome and met Madison who was to be our guide for the three nights that we were staying. We had a lovely room which looked out on Lake Kariba. The rate included Breakfast/Lunch and Dinner and all alcholic drinks. The food was a very high standard with a proper chef on site. All the staff were excellent and very friendly."
"I love the wild and staying at such an exquisite safari lodge just made this the most memorable holiday powerful ever. This place is a must to visit and stay in in one's lifetime. I have never seen so many elephants and Buffaloes by the shoreline everyday of our stay there. The fishing was exceptional … The food was was well presented and delicious. Management and staff were friendly and caring… "