Gonarezhou National Park
Situated in South Eastern Zimbabwe
Zimbabwe has a number of impressive game parks all of which offer something different and unique and Gonarezhou is no exception. Three major rivers, the Save, Runde and Mwenezi, cut their courses through the Park, forming natural pools from which hundreds of species of birds, wildlife and fish gather to feed and drink. In all there are over 400 species of birds, 114 species of animals and numerous species of fish, reptiles and frogs.
CLICK on image below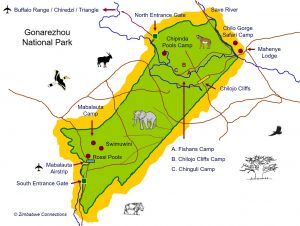 Gonarezhou is Zimbabwe's second largest National Park and is situated in the south eastern lowveld of Zimbabwe on the border with Mozambique. It covers an area in excess of 5 000 square kilometres. "Gonarezhou" meaning "Place of many Elephants" is an extremely scenic Park full of rugged and beautiful landscapes. Owing to its vast size, rugged terrain and its location away from main tourist routes, large tracts of Gonarezhou remain as pristine wilderness.
The park is very much characterised by its spectacular sandstone cliffs, the numerous Baobab trees, the impressive river systems and the wildlife.
Gonarezhou National Park borders Mozambique and forms part of the Great Limpopo Transfrontier Park (GLTP), a massive Pan-African Park that includes South Africa's famed Kruger National Park and Mozambique's Gaza.
The north-eastern end of the park is located within the Zambezian and Mopane woodlands, while the southwest is located within the Southern Africa bushveld ecoregion. The Gonarezhou National Park was formed in 1975, by uniting former hunting areas and tsetse fly control corridors. Historically the park has been a habitat for the endangered Cape wild dog (Lycaon pictus pictus); and there have been several sightings of wild dogs in the park.
Largely undiscovered by the outside world, this striking land is one of the last great pristine wildernesses in Africa and takes in a huge diversity of habitats. Gonarezhou has plenty of appeal to wildlife enthusiasts  and hosts a wide range of predators and herbivores including lions, cheetah, wild dogs, Kudu, Suni, Roan, hyena, buffalo, hippo and giraffe within its boundaries.
The park is best known for its elephants, which are called 'nzhou' in Shona and these huge and intelligent creatures give their name to the park where they number in their thousands. Gonarezhou was previously a stronghold for the endangered African wild dog, and there are still frequent sightings of this striking canine predator.
Any journey into the heart of Gonarezhou begins with the realisation that this is wild country. This is a country of red sandstone, thorny scrub and baobabs. Buffalo gather at watering holes, big cats prowl silently in pursuit of agile impala, hippo wallow midstream attended by squadrons of fluttering birds. The presence of elephants is everywhere as their families travel along historic routes in search of food, safety, and water. 
The best time to visit Gonarezhou is during the dry season when the bush is less thick and the water holes are less in number. Animals gather at permanent water points, making them easier to spot. Conversely, there is a proliferation of birdlife during summer with migrant species being drawn to the warmer weather of Gonarezhou. At this time of year, roads may become unaccessible and some camps close for the wet season.
In addition to the flora and fauna it is the physical landscape which many visitors find so special. The sandstone Chilojo Cliffs are breathtaking  and there are many impressive  rocky outcrops, flowing rivers, and plateaus of dense bush and of course the baobabs which number in their thousands.

"Gonarezhou I can only describe as amazing…I thought I would be going to just another game park but this is so much more…the ecology is so different and the wildlife viewing was fantastic…three days was too short."
"This has got to be Zimbabwe's hidden secret…wow what a place…the community projects, the animals, the sun downers, the sunsets…it was just such an amazing experience I can't say enough…have to go back"
"One of the experiences of my life…Chilo Lodge was amazing, the staff were brilliant and then there is the park…really wild and unspoilt and the animal sightings were very special…"
"Beautiful scenery, green and lush, flowing rivers, lots of quite cheeky elephants. A lot of bird life. Well worth visiting. Chilojo cliffs are beautiful, as was Runde floodplain and Save river."
"Gonarezhou is a totally different experience to any other game park in Zimbabwe…the physical environment and river systems are breathtaking. Great game viewing and it is just so quiet and peaceful…highly recommend it."
"We did 2 half day trips into the park. Elephant, Kudu, Nyala, Eland, Zebra, Impala, Warthog and wildebeest among others. The Bird life astounds… put this place on your bucket list folks!"
"I want to say that I was recently in Gonorezhou for a whole week. I have to say that it was a phenomenal experience. I thought that the Chilojo Hills were stunningly beautiful. The huge baobab trees which dot the landscape were just phenomenal. There were herds of huge elephants which had long tusks."