Rhodes Matopos (Matobo Hills) National Park
Situated in Matebeleland, South of Bulawayo
Zimbabwe has a number of diverse National Parks and the Matobo Hills NP is very special amongst them. The park is only 35 kilometres south of Bulawayo and is the perfect place to venture out to for a day of sightseeing or for a picnic or braai (BBQ). Alternatively for those wanting to stay over there is accommodation to cater for all tastes from the well appointed and very unique lodges such as Amalinda Lodge, Big Cave and Matobo Hills Lodges through to ZIMPARKS chalets and camp sites.
Tours can be arranged from Bulawayo or by the staff at your lodge or you can self drive but if you are wanting to see the San Bushmen paintings, visit 'View of the World', Maleme Dam, Cecil John Rhodes burial site, do birding, bush walking or animal trekking, it is recommended using a guide and you will get so much more out of your day. Some lodges have their own fully trained guides or can arrange one accordingly.
Click on image to enlarge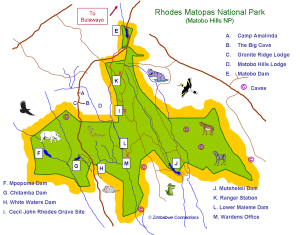 The Matobo hills area, commonly known as the Matopas, is approximately 3100 sq kms of which 424 sq kms makes up the National Park with the remainder being largely communal land. Established in 1926 as Rhodes Matopos National Park, the park is the oldest in Zimbabwe and was a bequest from Cecil John Rhodes. The park extends along the Thuli, Mtshelele, Maleme and Mpopoma river valleys. The Matobo Hills were designated as a UNESCO World Heritage Site in 2003.
The area is characterised by a profusion of distinctive hilly granite rock formations. The hills were formed over 2 billion years ago with granite being forced to the surface through volcanic activity and this has eroded to produce smooth "whaleback dwalas" and broken kopjes, strewn with boulders and interspersed with thickets of vegetation. The highest point in the hills is the promontory named Gulati (1549 m) just outside the north-eastern corner of the park.
Mzilikazi, founder of the Ndebele nation, gave the area its name, 'Matobo', which means 'Bald Heads'. The grandeur and stillness of the hills has contributed to their hallowed reputation and are of special significance to the Ndebele and Shona people. Many rituals and other religious activities are performed in the hills.
The San people (Bushmen) lived in the hills about 2,000 years ago, leaving a rich heritage of rock art for visitors to enjoy  and which documents the regions long history There are over 3,000 registered rock art sites, with the main periods of painting being between 320 and 500 C.E.
The Matobo Hills area has significant botanic diversity, with over 200 species of trees and there are also many aloes, wild herbs and over 100 species of grass. The Park also boasts 175 bird, 88 mammal, 39 snake and 16 fish species. Game includes Rhinoceros, Sable Antelope, Impala, Leopard, Giraffe, Zebra, Wildebeest, and Ostrich. Matobo National Park contains the highest concentration and number of breeding pairs of black eagles, worldwide.
The Matopas area is a very special place to visit and is highly recommended. It is easily accessible from Bulawayo and offers a good variety of accommodation.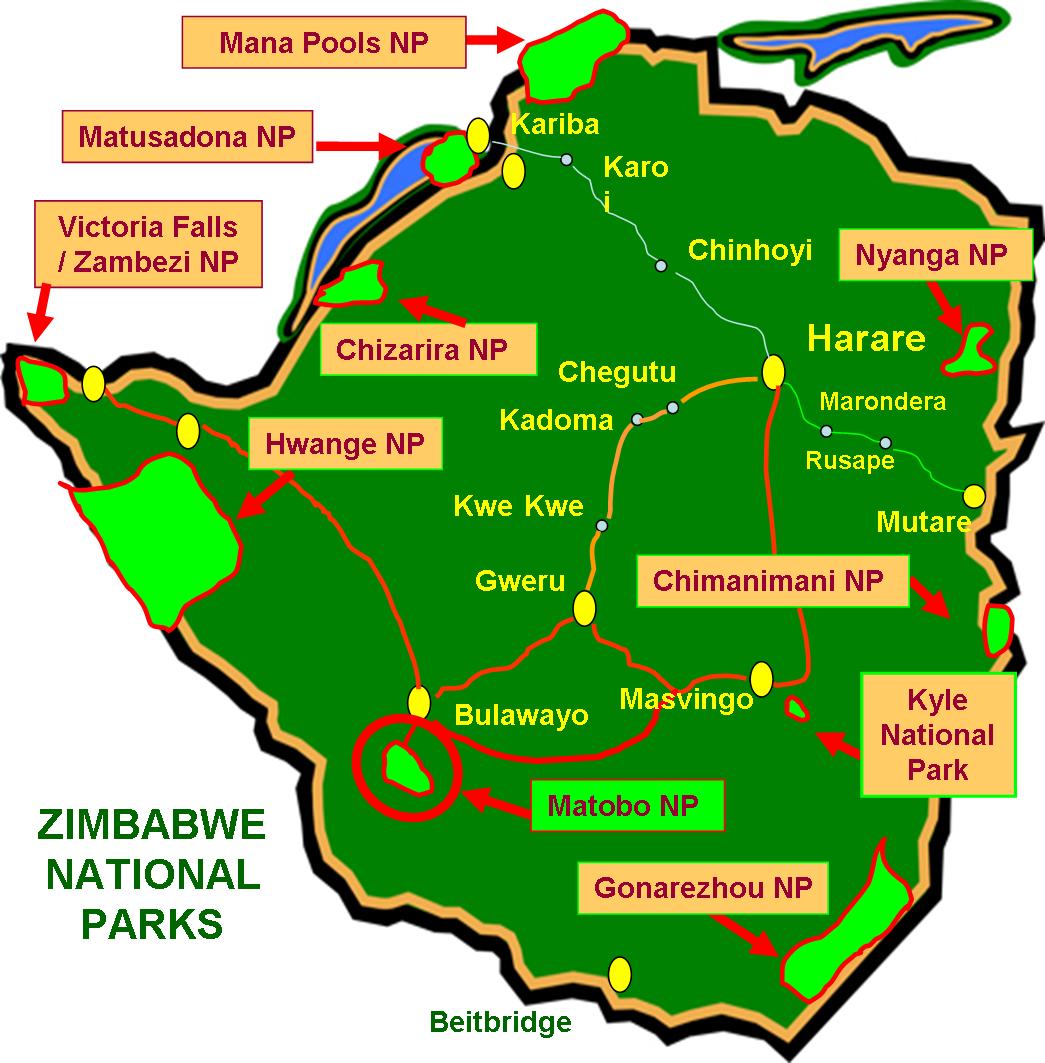 "You can't go to Zimbabwe without visiting the Matobo Hills…we had such an amazing time. The rock formations are amazing and we saw rhinos and black eagles. We stayed at the Big Cave which was fabulous and visited Cecil Rhodes grave and saw the Bushmen paintings which are really amazing…"
"Absolutely love this place. I recommend at least three nights stay. Accommodation was great and it is so quiet and relaxing. We didn't know what to expect but just loved visiting the park and spending time with the guides."
"…we were so pleasantly surpised. We stayed in a lovely lodge in the Matobo Hills for two nights (I recommend three)…It is all so lovely and quiet and peaceful…we saw lots of birds and also saw some rhinos which was very special…Sean thank you so much…" 
"Matopas is amazing…just loved the safari camp and everything we saw and did. Visited two locations of San Bushman paintings and went to Worlds View and saw Cecil Rhodes grave and the other memorials. We couldn't find the black eagle but did see rhino which was very special…"