Rhodes Nyanga National Park
Situated in the northern part of the Eastern Highlands
Nyanga National Park is situated in the northern part of the Eastern Highlands and is without doubt  one of Zimbabwe's most scenic areas with its rolling green hills and perennial river systems which transverse the 47 000 hectares of the Park. The area consists mainly of rolling hills and granite mountains with acacia, miombo and mixed woodlands, montane forests, exotic plantations and montane grasslands. There are also numerous steep  gorges, rivers and waterfalls, farms and orchards. This area is an outstanding destination for those who enjoy the great outdoors.  The cooler climate is just perfect for scenic drives, hiking or golfing.
From Harare you turn off the main Harare – Mutare road at Rusape and follow the signs to Juliasdale. Although tarred, the roads are generally in poor condition and you need to watch out for potholes which are not always easily seen when in shadow. 4WD is recommended.
The area experiences orographic rainfall which occurs when moist air rises and cools, producing orographic clouds, which are the source of the rain. These weather patterns are unique to the Eastern Highlands and as a result much of the flora and fauna is quite localised and very different to the dry, low lying west and the rest of the country. 
Altitudes between 1 800 and 2 593 metres provide cool weather and fresh mountain air, perfect for rest and relaxation. With its stunning mountainous views, numerous waterfalls, varied activities and unique flora and fauna, Nyanga National Park provides visitors with an unforgettable experience.
Visitors to the Eastern part of the country in June to August will be exposed to a kaleidoscope of colour as the leaves of the indigenous Msasa trees transform and develop through a variety of reds, yellows, maroons, golds, browns, oranges, and greens over a few weeks. A wonderful sight to behold and photograph
There are numerous ancient ruins in the area as well as waterfalls which are well worth a visit. There are essentially three main types of ruins to explore, namely pits, forts and terraces. There are also some caves with rock paintings and ancient gold workings.
On the edge of the Rhodes Nyanga National Park is Mt Nyangombe, Zimbabwe's highest mountain (see 'Attractions' below).  
Many of the dams and lakes in the Nyanga area are famous for their good trout and bass fishing and it is also an excellent area for golf, horse riding and mountain hikes as well as birding, rock climbing and abseiling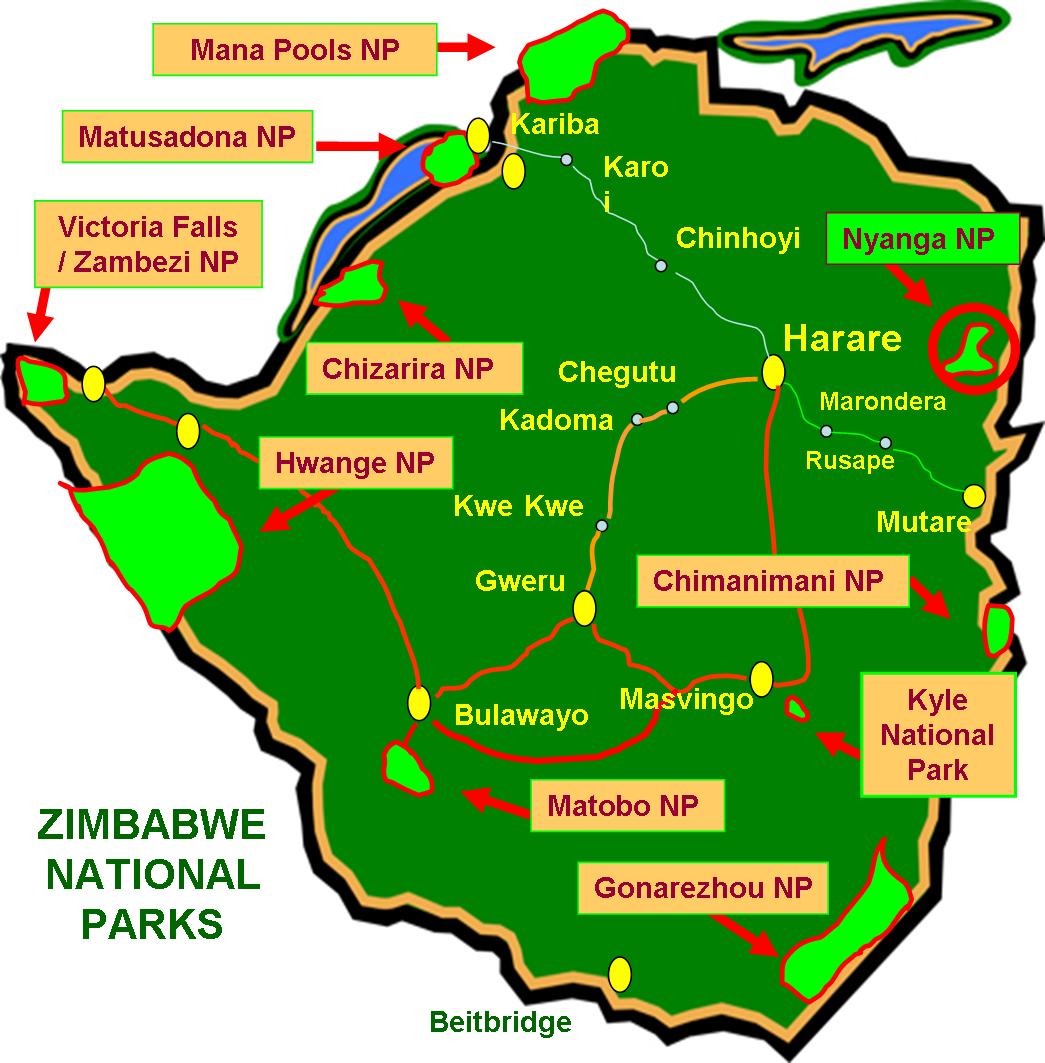 Click on Rates below




"…Nyanga is without doubt a hidden treasure…the mountains are absolutely stunning and it has been such a relaxing experience. It has been a very laid back stay and so enjoyable and unpressurised. Totally different to anywhere else we have visited in Zimbabwe…"
"Zimbabwe is amazing but our visit to the Eastern Highlands was our favourite time. We stayed for a couple of nights at Inn on Ruparara which set the tone for the visit…staff were so welcoming and the rooms were very comfortable with fantastic views…the food was of a very high standard…There is so much to see and do in the area…"
"We only traveled to the Eastern Highlands on Sean's recommendation. We have seen Hwange and Great Zimbabwe and Victoria Falls…all very beautiful but wanted to do something different. What a special place and I would recommend a trip to Nyanga and the Bvumba to anyone and I recommend combining it with other places….will definitely be back"