Zambezi Sands Safari Camp
Situated in North Western Zimbabwe in the Zambezi National Park
Zambezi Sands Safari Camp is situated within the western area of the Zambezi National Park on a very picturesque section of the Zambezi River where guests have wonderful views of the river and trees. The lodge can be accessed by two routes from Victoria Falls town. There is the 'river route' which takes you through the Zambezi National Park on a dirt road and is approximately 1½ hours duration. A 4×4 is required. The second route is the 'forest route' which is mainly tar road and the journey will take approximately 1 hour.
The camp was first opened in 2014 and has steadily grown in popularity. Each lodge is luxurious and very comfortable. All are linked to the central area with raised walkways and offer guests their own special views of the river and plenty of privacy.  Zambezi Sands is unique in that it features not only the Zambezi River and water based activities and some glorious wildlife and scenery but is also close to the Victoria Falls.
Zambezi Sands offers a wealth of picturesque game viewing opportunities – whether guests chose to drive or walk – the experienced guides take great pleasure in introducing visitors to the camp's pristine and tranquil surroundings. Guests can even explore the Zambezi River by inflatable canoe or motorised boat.
Relaxing in your private deck splash pool – whilst overlooking the Zambezi – is also very relaxing and therapeutic and very enjoyable. Elephant can be found loitering on the mainland or in the river, while hippo, waterbuck and bushbuck frequent the reed banks and islands.  Lions can be heard calling at night and the birdlife is prolific – African finfoot, African skimmer, Pratincoles and Pel's fishing owl all occur here.
The camp only has eight lodges thus ensuring guests are never 'crowded' and have their privacy and can fully chill out and relax in either their own room or at the main lodge.
Zambezi Sands offers the chance to unwind but also to experience some of the most amazing game viewing and bird watching in the region.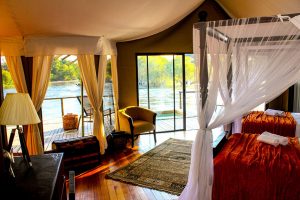 "Spent many hours in driving around in the picturesque landscape, very close to grazing elephant herds, cruising and canoeing on the river, visiting the Victoria Falls,
having more sun-downers than sunsets (!!), delicious food all day long and last but not least we were ending the days sitting around a camp fire at the Zambezi riverbanks on the terrace of the lodge. We love this peaceful and unique place and will come back soon"
"The accommodation is stunning and was only surpassed by all the staff who made my time here wonderful. I thank Nadine and John who manage the place…and of course Blessed my guide. Not only did he explain many things to me on our drives he was also a very interesting companion during meals. I thank you all and would without question recommend Zambezi Sands.  "
"We stayed at Zambezi Sands for 2 nights in November, 2016, on our way from Hwange to Chobe, and absolutely fell in love with the scenery! The camp in on the river, so every tent has a fascinating view (and a deck with your own private soak pool)."
"I visited Zambesi Sands as part of a … tour and stayed for 3 nights. It is set overlooking the river where you can watch the hippos, crocs and birds. The Lodge consists of luxury tented accommodation and the tents are fully furnished. You will have your own plunge pool on your veranda and an outside shower plus all the facilities indoors as well. The National Park is very attractive set on the river and there is lots of wildlife to see … We had a great canoeing expedition on the river followed by sun downers. The staff are superb – very friendly and welcoming. Thoroughly recommend this place."