Changa Safari Camp
Situated in the Matusadona National Park on the South East bank of Lake Kariba
Perfectly set in a remote and secluded part of the Matusadona National Park and boasting nearly 4km of lakeshore frontage, Changa Safari Camp offers a unique and authentic safari experience.  There are a varied range of exciting and relaxing activities to choose from including both morning and afternoon game drives, fishing for the famed fighting Tiger fish and stunning game walks on the concession with an experienced and knowledgeable guide.
Lapped by the waters of Lake Kariba, shaded by Mopane woodland and hidden from the world, Changa Safari Camp is an oasis of tranquility and an ideal retreat from the hustle and bustle of modern life.
Changa has been designed to blend in with the environment using natural materials. The camp  furniture has been built using Zimbabwe's finest teak and the bar has been fashioned around the hull of an old boat.
Changa offers the ultimate in relaxation in a unique and unspoiled environment. Whether relaxing in camp or spending time on the magnificent Lake Kariba you will witness the passing parade of animals and birds as they go about their business living in their natural state. 
Whether you are a photographic enthusiast or a 'holiday snapper' you will be presented with many an opportunity to capture some special moments such as Kariba's famed sunsets, lake scenes, animal close-ups or bird life. Animal species include elephants, rhinos, hippos, crocodiles, hyenas, zebras, leopard and buffalo whilst bird sightings will likely include the magnificent fish eagle, ospreys, saddlebilled storks and a variety of herons.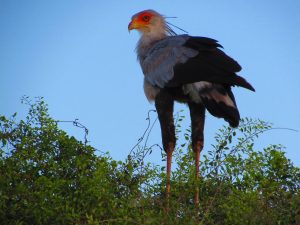 Click on Rates below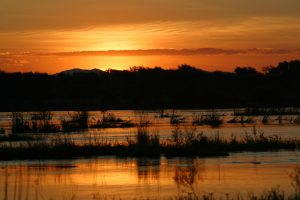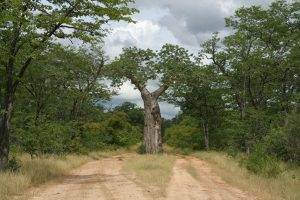 "Changa is not only exceptional for the majestic beauty of the area, but also because of the gracious service and spirit of your staff. Thank you for creating a wonderful travel memory – this is a place I will long to return" – Susan,  Washington, Virginia
"I cannot recommend this place enough. Kariba is maybe my favourite place in Zimbabwe, and Changa celebrates everything about their gorgeous location. From an outdoor bath and shower, to dinner under the stars every night, and with huge (netted!) windows in the tents, you are always surrounded by nature. The tents themselves were enormous with plenty of storage space…"
"Thank you to the wonderful Changa Team – Sarah and Bruce, you have definitely built a fantastic staff who know exactly how to take care of your guests. I loved the water and land based activities and the location is spectacular. Wonderful memories I leave your lovely camp with. Joanne, North Salem, NY