Lake Mutirikiwi and Kyle Recreational Park
Situated in South Eastern Zimbabwe near Masvingo
Lake Mutirikwe, also known as Lake Kyle (formerly Kyle Dam), lies in south eastern Zimbabwe, south east of Masvingo and was formed by the construction of the Kyle Dam between 1958 & 1960. Much of the land used for the lake was previously farm land owned by the legendary pioneer of the Lowveld, Tom Murray MacDougall, a man of great vision who was instrumental in the building of the dam. The farm and the dam were named after the Kyle District in Scotland from where Murray MacDougall originated.
Click on map to enlarge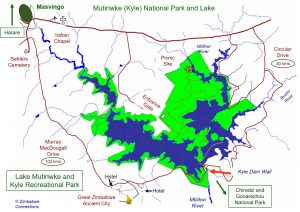 Much of the lake is very well situated within magnificent natural granite formations which proved to be ideal not only as a reservoir to provide irrigation to the sugar cane plantations of the Lowveld but also as an amazing recreational facility catering for fishermen, campers, picnickers and sailors.  The Kyle Dam wall is a double curvature concrete arch 309 metres in length and 63 metres high. The Mutiriwki Lake covers an area of approximately 90 sq km² (when full) with a total capacity of 1,378 million cubic metres, a catchment area of 3900 km sq and a surface area of 9105 hectares.
The purpose of building Kyle dam was for it to act as an irrigation reservoir to provide water to the farming estates in the south east Lowveld. Water levels within the dam have fluctuated considerably over the years due to a series of droughts and demands for irrigation water. It has reached as low as 11% of capacity.
Rivers which feed Lake Mutirikiwi include the Mbebvi River, Matare River, Popoteke River, Umpopinvani River, Makurumidzi River, and Shagashe River. 

"We had such an amazing time visiting the Masvingo area and seeing Lake Kyle and Great Zimbabwe. The granite  rock formations are imposing and the lake is in such a beautiful setting. The dam wall is very impressive and there is a quaint  little commemorative church overlooking the lake"
"We traveled down to Masvingo after a lovely stay in the Eastern Highlands. We stayed for two nights at Norma Jean's which offers 'old fashioned' hospitality. The staff were very friendly and the food amazing. Kyle Dam is well worth visiting and I recommend a drive to the Kyle National Park…"
"We stayed at Norma Jean's farmhouse lodge and visited the local area including Mutirikwi lake and dam. It is so tranquil in the area and the rock formations which naturally form the lake and channel for the water are very impressive"