Eastern Highlands
Juliasdale, Nyanga, Troutbeck, Honde Valley, Bvumba, Cashel, Melsetter, Chimanimani and Chipinge.
The Eastern Highlands in Zimbabwe extends for approximately 200 miles (320 kms) from the Nyanga Mountains in the north through to Chipinge in the south east and forms the border with neighbouring Mozambique. The Eastern Highlands is an all embracing term for a number of areas in the eastern part of the country and generally includes Juliasdale, Nyanga, Troutbeck, the Honde Valley, Mutare, the Bvumba, Cashel, Melsetter, the Chimanimani Mountains and Chipinge. 
The region is characterised by wonderful mountain ranges, rolling mists, cultivated forests, vast tea estates, apple orchards and waterfalls. It is very popular with birders, fishermen and outdoor enthusiasts who participate in hiking, camping and abseiling etc.
Click on image below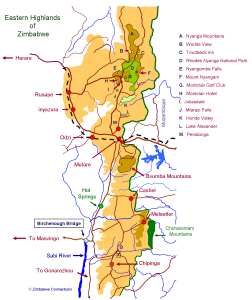 First time visitors to the area are so often taken aback by the climatic and environmental differences to other parts of the country. Within the Eastern Highlands there are a number of micro climates all influenced by the enormous mountains and rolling valleys which dominate the region. As a result much of  the flora and fauna are localised and not to be found anywhere else in Zimbabwe.
The Eastern Highlands are truly beautiful and provide completely different and indeed unique experiences to the many other iconic destinations in the country such as the Matopas, Kariba, Victoria Falls, Great Zimbabwe and the many wildlife parks.
There is so much to see and do in the Eastern Highlands. See 'Attractions' and 'Activities' below. The weather lends itself to all year round visits. We would recommend a stay of three to five nights. For visitors who have more time perhaps consider travelling from Harare, staying in the Eastern Highlands and then motoring on down to Masvingo Province to see the Ancient City of Great Zimbabwe . This will take you over the amazing Birchenough Bridge (see details below).
Another option is to travel from Bvumba through Melsetter directly down to the magnificient Gonarezhou National Park. A minimum stay of three nights is recommended. From Gonarezhou you can make your way to Masvingo to visit Great Zimbabwe and then either carry on down to Bulawayo via Gweru or back to Harare. By car it is approximately seven and half hours from Gonarezhou to either Bulawayo or Harare.

"Whenever we visit Zimbabwe we try and spend a few days in the Eastern part of Zimbabwe. We have been there about five times. It really is such a beautiful place with so much to do. We have stayed at Inn on Rupara, Troutbeck Inn and and Inn on the Vumba. These places have stunning vi ews. The accommodation is comfortable but not up market…".

"We have visited various places in the East of Zimbabwe but regrettably it took us a while to discover these places as we tended to go the game parks and Victoria Falls. We stayed at Imira who do amazing conservation work and also stayed in Nyanga and the Vumba…absolutely beautiful and so relaxing".

"Can't recommend a visit to the Vumba highly enough. Such a beautiful area. We are avid walkers and bird watchers and had a wonderful time discovering birds we have never seen before. We stayed at the Leopard Rock hotel which was great…food and service was excellent"