Kyle Recreational Park and Lake Mutirikiwi
Situated in South Eastern Zimbabwe near Masvingo
Lake Kyle Recreational Park was established in 1960 upon completion of the dam. It extends over 16 900 hectares and lies mainly on the lake's northern shore, while there is a small recreational park on the southern shore. Of the total area, approximately 9300 hectares is occupied by the lake (when full) and 7600 by the park.
Click on map to enlarge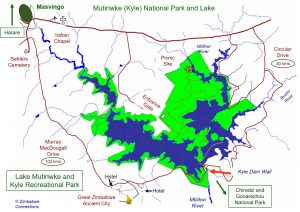 The lake and park combined make for a wonderful environment and an excellent recreational facility. Being in easy reach of the Great Zimbabwe Ancient City the area is well worth a visit. The views, the rock formations, the fishing, birdlife and animals (see below) and the picnicking / BBQing facilities all make for a very pleasant and relaxing experience.
The Park area is bounded on the north by the Beza Range which rises to a height of 1485m. Between this range and Lake Mutirikwi, is an undulating plain averaging 1070m above sea level. The plain terminates in an area of broken hills dividing Lake Mutirikwi into to two main areas: east and west. Four main estuaries are a feature of the lakeshore in the central section of the area.  On the south of the lake the area is dominated by hills of solid granite rock.
Many visitors to Lake Mutiriwki and Park also include stays in the Eastern Highlands and / or Gonarezhou National Park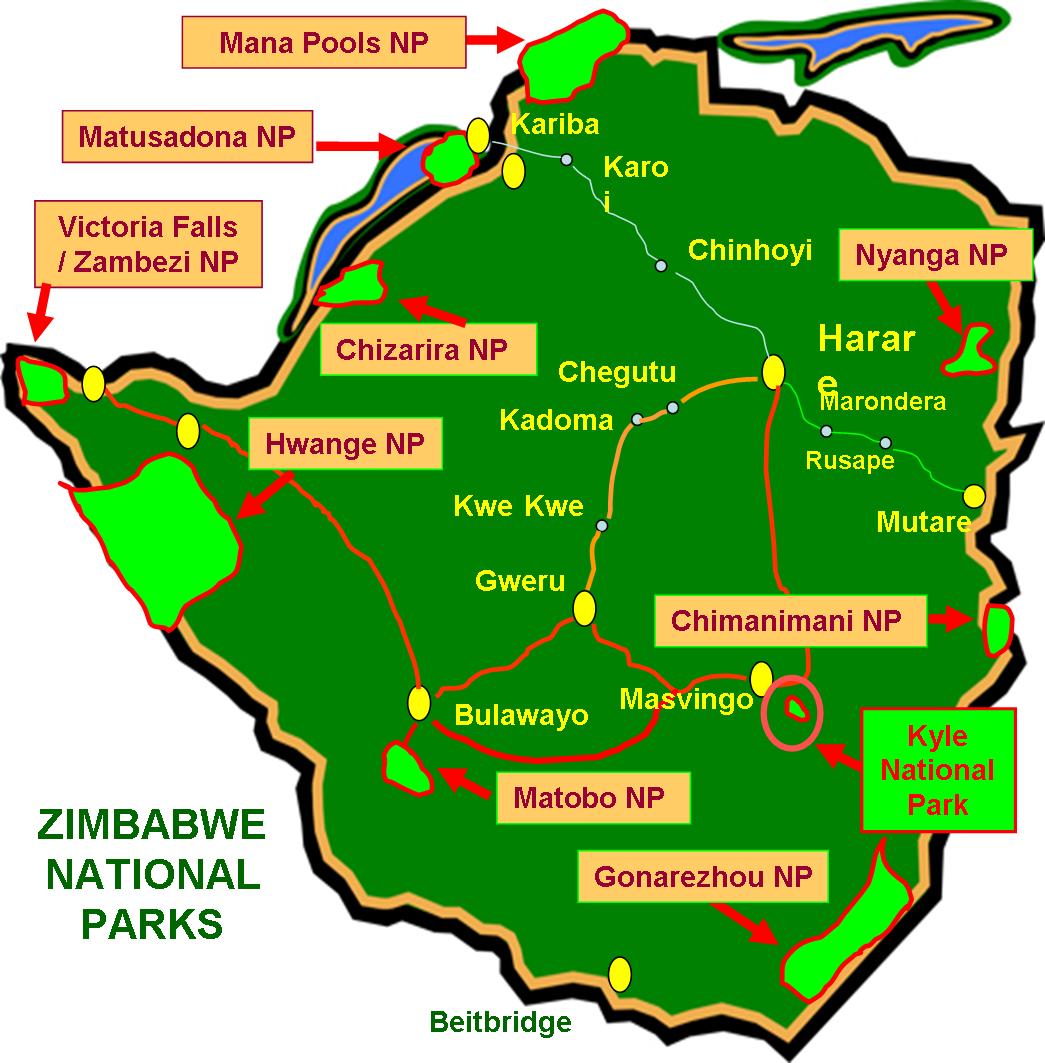 "We had such an amazing time visiting the Masvingo area and seeing Lake Kyle and Great Zimbabwe. The granite  rock formations are imposing and the lake is in such a beautiful setting. The dam wall is very impressive and there is a quaint  little commemorative church overlooking the lake"
"We stayed at Norma Jean's farmhouse lodge and visited the local area including Mutirikwi lake and dam. It is so tranquil in the area and the rock formations which naturally form the lake and channel for the water are very impressive"
"the whole Lake Kyle area is so beautiful and quite…the rock formations are so impressive…dam was quite empty when we were there but still a wonderful place to visit"