Recommended Trips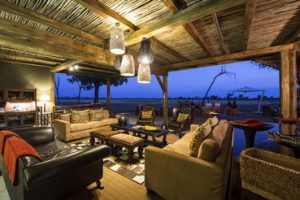 Victoria Falls / Hwange NP / Mana Pools
US$7821 per person sharing
This 8 night trip takes you to three iconic destinations – Victoria Falls, the Hwange National Park and the Mana Pools National Park which is a World Heritage site. The three destinations are completely different – you will experience the roar and buzz of the mighty Victoria Falls, the raw wilderness of the African bush in Hwange and the remote serenity of Mana Pools. The wildlife experience is second to none. More...
2 nights Toka Leya Camp – Livingstone (Victoria Falls)
On the banks of the Zambezi River, Toka Leya is far enough from Livingstone to ensure a tranquil, authentic bush experience, yet close enough for guests to enjoy all the many activities in the greater Victoria Falls area. Toka Leya can be all about adrenaline, or an opportunity to relax and unwind before or after a safari.
Toka Leya has twelve luxurious tents (of which three are family tents). Each has a sumptuous outdoor bath, while the wellness centre with yoga and meditation options complements the serene surroundings. Boating and catch-and-release fishing excursions bring the Zambezi experience to life
3 nights Davison's Camp – Hwange National Park
Friendly Davison's Camp offers the most affordable way to enjoy a Hwange private concession experience. The shady camp with its adjacent waterhole attracts large numbers of animals, especially thirsty herds of elephant in the dry season. Guests can also learn more about – and even participate in – community projects on a visit to a neighbouring village.
Guests staying in one of Davison's nine tents (including a family tent) can enjoy the quintessential Hwange experience, viewing the wildlife and meeting the people who make this area so special. Game drives and walks explore this diverse and exciting area.
3 nights Ruckomechi Camp Mana Pools National Park
Located in the legendary Mana Pools National Park, Ruckomechi enjoys incredible views across the Zambezi to the towering escarpment on the Zambian side of the river. Ana trees provide both shade and seed pods that are beloved of elephants, meaning that these charismatic creatures are never far away.
Guest accommodation consists of ten spacious en-suite tented units, including two family units, and open 4×4 vehicles, motorised pontoon boats, canoes and good old safari boots facilitate the wildlife viewing. The camp even features a secluded outdoor bath for a luxurious sensory experience. Ruckomechi is open throughout the dry (winter) season.
Optional label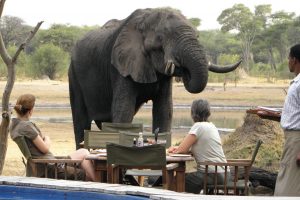 Mana Pools & Kariba
9 nights on the ground – $3374
Excludes airfares
This magnificent land and boat safari offers incredible value and takes you two of Africa's iconic destinations, the pristine and beautiful Mana Pools National Park and Lake Kariba, the world's largest man-made lake by volume. More...
Mana Pools was declared a World Heritage Site in 1984 and is home to a wide range of animals and aquatic wildlife and has over 350 recorded species of birds. There is over 20 000 square kms of wildlife protected land in the vicinity of Mana Pools.
Lake Kariba forms the border between Zimbabwe and Zambia and is over 223 kilometres (139 miles) in length and in places is up to 40 kilometres (25 miles) wide and covers an area of 5,580 square kilometres.  The average depth of the lake is 29 metres (95 feet) with the maximum depth being 97 metres (318 feet). Kariba is renowned for its houseboat cruises, wildlife and magnificent sunsets.
Day 1
Arrive Harare International Airport | Transfer to Pamuzinda Safari Lodge
Day 2
Depart for Mana Pools National Park | Overnight Mana Pools Safari Lodge
Day 3
Mana Pools National Park| Overnight Mana Pools Safari Lodge
Day 4
Mana Pools National Park | Overnight Mana Pools Safari Lodge
Day 5
Depart for Kariba | Transfer to and overnight at Kariba Safari Lodge
Days  6, 7, 8
Embark on 3 Night Cruise on Lake Kariba
Day 9
Depart for Selous | Overnight at Chengeta Safari Lodge
Day 10
Transfer to and depart from Harare International Airport
Example Label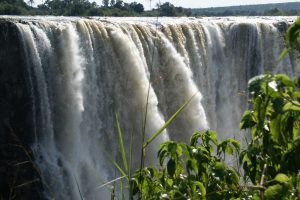 Land & Lake, Wildlife & Wilderness, Culture & Community
16 nights on the ground – $5277
Excludes Airfares
This amazing trip offers great variety and gives you insight into Zimbabwe's great diversity. You will visit National Parks, interact with local communities, visit ancient ruins, experience the spiritual Matobo Hills, see ancient San Bushman rock paintings, be guided on a Rhino trek, see fantastic wildlife in their natural state, visit the iconic Victoria Falls, cruise on Lake Kariba, the world's largest manmade lake and stay in the pristine World Heritage national park of Mana Pools. More...
Day 1
Arrive Harare | Pick up and transfer to Selous. Overnight at Chengeta Safari Lodge.
Day 2
Travel to Masvingo and Great Zimbabwe
Day 3 & 4
Depart for Matobo National Park |Overnight Shashani Matobo Hills
Day 5 & 6
Travel to Hwange National Park
Day 7
Transfer to Victoria Falls
Day 8
Victoria Falls
Day 9,
Depart for Binga | Overnight on board a houseboat
Day 10 & 11
Cruising Lake Kariba
Day 12
Kariba | Overnight Kariba Safari Lodge
Day 13,
Depart for Mana Pools National Park
Days 14 & 15
Mana Pools National Park | Overnight Mana Pools Safari Lodge
Day 16
Selous | Overnight Pamuzinda Safari Lodge in Selous
Day 17
Depart Harare International Airport
Contact: Email: seankelly@zimbabweconnections.com
Phone and WhatsApp: 00447765522194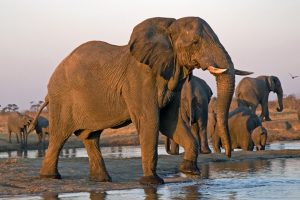 Mountains, Wildlife, Falls Experience
14 nights on the ground
£3600 PP Excludes airfares
Fly into Harare where you will over night and have a city tour. From there travel into the Eastern Highlands for a two night stay. From there you will travel to the amazing Gonarezhou National Park for three nights and then onto Masvingo to see Great Zimbabwe and Lake Kyle.
It is then onto Bulawayo and the Matobo Hills for a two night stay. From there you will travel onto Hwange and the magnificient Victoria Falls
Schedule is flexible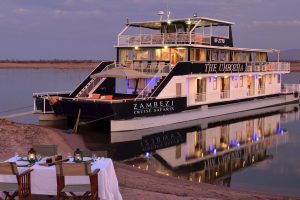 Lake, Park, Falls Experience
12 nights on the ground.
£3450 PP Excludes airfares
Fly into Harare for a two night stay. You will then fly up to the amazing Lake Kariba for a three night stay on a Houseboat on the lake. From there you will fly onto Victoria Falls and travel to Hwange for two nights and then onto Victoria Falls for three nights.