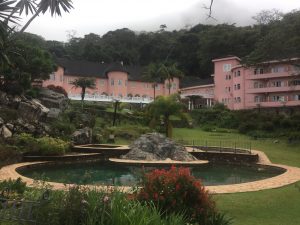 By: David Bowden – International Travel Writer and Author
The moment I was given a hot-water bottle, I knew this would be a hotel and a destination with a difference.
I had just checked into Leopard Rock Hotel in Zimbabwe's Eastern Highland's and I was trying to locate the room heater as the coolness of the late afternoon became apparent with the setting of the sun.
Cool weather was one of many enjoyable surprises on my journey of discovery through Eastern Zimbabwe. Cool mountain air is something many of us seek out on our global journeys and Zimbabwe's Eastern Highlands have long been popular as an escape from the warmer weather of the lowlands around the Zimbabwean capital of Harare.
Outdoor activities are made more enjoyable with this cooler weather and walking, climbing, fishing and golf are activities that have lured visitors to this part of land-locked Zimbabwe.
An activity that appeals to many visitors to the area is the steep ascent to the summit of Mount Nyangani and I was even content just strolling around the extensive grounds surrounding the Leopard Rock property. 

Hills and Dales
Mount Nyangani in Nyanga National Park at 2,593 metres above sea level is Zimbabwe's highest mountain and while the four-hour return ascent is demanding, it is worth it to admire the Eastern Highlands as well as easterly views into neighbouring Mozambique.
Unlike some other areas of Zimbabwe, the Eastern Highlands are mountainous and forested in most parts and this means that the animals sighted around wildlife safaris camps such as Mana Pool, Hwange and Matobo Hills National Parks are not so common in the Eastern Highlands.
It is recommended that visitors to Zimbabwe tour the less-visited Eastern Highlands first, then join a wildlife safari for a few days before ending their Zimbabwe adventure at the spectacular Victoria Falls. This will ensure that each new experience builds on the previous one and end in a crashing crescendo at the cool cascade of Victoria Falls.  
National parks in the Eastern Highlands like Mtarazi and Nyanga provide some opportunities to see animals such as zebra, kudu, impala, waterbuck and wildebeest but, they are not as prolific as on the vast open plains found in national parks like Hwange.
The closest I got to semi-wild animals in the Eastern Highlands was in the game sanctuary overlooking Burma Valley and attached to Leopard Rock where, on a guided game walk, I saw impala, ostrich, giraffe and several species of monkey.
Time for Tea
I was also fascinated to admire tea plantations surrounding my accommodation at Aberfoyle Lodge at the head of the expansive Honde Valley. The 'carpeted' foothills here looked exactly like other tea-growing areas I'd travelled through in Sri Lanka, Malaysia's Cameron Highlands and Puncak on the island of Java.
There are several waterfalls to admire in the highlands too with the most accessible being the picturesque series of cascading waterfalls known as Nyangombe Falls in Nyanga National Park.
If anything, Zimbabwe is a country full of enjoyable surprises and on our return journey to Harare we stopped at Bushman Rock (www.bushmanrock.com) near Melfort, at what I believe to be the last remaining winery in Zimbabwe. While there accommodation and game drives are available here, I enjoyed a hearty lunch while taking the opportunity to sample and purchase delicious local Semillon and Moscato wines.
Colonial Heritage
The Eastern Highlands are seemingly locked in a colonial time warp of gracious old hotels and guesthouses. Some appear to retain the original furniture from the 1950s, open fireplaces, a welcoming glass of port wine, refined service from long-serving staff and, adjoining golf courses.
I imagined well-to-do colonialists in days gone by taking cream tea on the patio while contemplating a round of croquet or perhaps tennis before settling into a sumptuous evening roast in front of a raging fire.
 During my Eastern Highland adventure I stayed and dined in some of the best accommodation in the highlands including Aberfoyle Lodge (www.aberfoylelodge.com) and Troutbeck Inn (www.troutbeckinn.net) near Nyanga National Park, La Rochelle Country House (www.larochellecentre.com) at Penhalonga and, Leopard Rock (www.theleopardrock.com) in the Bvumba Mountains.
 Aberfoyle Lodge is remote and I am glad I stayed for two nights as it is a very restful location with excellent food, cold Zambezi beer, a challenging golf course carved from the forest, superb accommodation and enchanting forest walks through tea plantations.
Troutbeck appeals as it is a larger hotel with refined facilities including a golf course, atmospheric bar with fireplace and trout fishing in a lake.
Leopard Rock is of a similar scale with 58 rooms, excellent facilities and enthusiastic staff who are there to ensure their guests have a memorable stay. Napoleon's Cocktail Bar is a bar that you know you belong in, while the food served in La Roche Restaurant, was outstanding.
Food was also a highlight of my short visit to La Rochelle Country House (www.larochellecentre.com), the former home and estate of the late Sir Stephen and Lady Courtauld and now an elegant rural retreat with vast and meticulously-manicured gardens. While lunch of butternut pumpkin soup and sirloin steak is highly recommended, a walk around the orchid collection is a must.
Being mobile is important and while hiring a car is easily done, it's always best to have somebody drive and guide you as the highlands extend for 300km north to south.
About David Bowden:
WEBSITE: www.davidbowden.net
AUTHOR of Great Railway Journeys in Australia and New Zealand – published 2017
WINNER 'Best Tourism Publication (International) for Enchanting Penang at the 19th Malaysia Tourism Awards.  AUTHOR of Presenting Malaysia – published 2016                                                                                           AUTHOR of Enchanting Indonesia, Enchanting Penang, Enchanting Bali & Lombok, Enchanting Langkawi, Enchanting Malaysia, Enchanting Singapore, Enchanting Borneo, Enchanting Vietnam and Enchanting Australia.                                                                                                                                                                     CO-AUTHOR of Southeast Asia: A Region Revealed 
CO-AUTHOR of A Journey Through Indo-China                                                                                                    CONTRIBUTOR: The World's Most Exotic Railway Journeys
All published by John Beaufoy Publishing UK (www.johnbeaufoy.com)
WINNER SABAH TOURISM AWARDS 2011 – BEST ARTICLE on SABAH                                                              WINNER of ASEANTA BEST TRAVEL STORY in SOUTH EAST ASIA 2010
WINNER of ASEANTA BEST TRAVEL STORY in SOUTH EAST ASIA 2007